_
Events Needing Assessment
Hurricane
Flood
Fire
Lightning
Freeze
Drought
Tornado
Accidents
Contractor Negligence
Environmental Violations Resolution
Links
Services Contract
Articles of Interest
_
Have your land improvements or landscape been damaged by
Weather or other natural disaster?
Contractor services or lack of services?
Accidents or Trespassing?
If your landscape or forest, your Green Assets™, have been damaged, the Landscape Damage Assessment Team™ (LDAT) can assess and value those damages for various types of claims. We also assess land improvement damages (irrigation systems, soil erosion, sloughing slopes, storm water and drainage systems, sidewalks, fences, sports fields, etc.) with costs and specifications for remedial, repair and/or restoration work. The assessment results are a basis for insurance claims, FEMA claims, disaster relief applications, IRS Casualty Loss Claims, and property records.
Our clients have included: golf courses, resorts, homeowner or condominium associations, municipal or county parks, public schools, universities, malls and shopping centers, business parks, industrial sites, estates and residential homeowners. We work individually or as part of the overall claims preparation team. Other claim team members may include, Claims Adjustor, engineer, architect, landscape architect, investigators, and professionals in other areas of expertise. If you are interested in hiring LDAT, please visit our services contract page.
Call or email us today to tell us about damages to your land improvements and/or landscape!
(954) 987-1885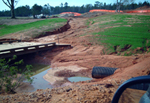 Soil Erosion Damage
_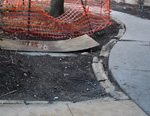 Sidewalk Damage
_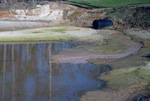 Drainage Damage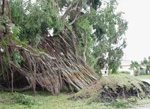 Hurricane Damage