_
Events Needing Assessment
Hurricane
Flood
Fire
Lightning
Freeze
Drought
Tornado
Accidents
Contractor Negligence
Environmental Violations Resolution
Links
Services Contract
Articles of Interest
Who We Are
_
Contract Terms
The following items are the major portions of work to be reviewed for inclusion in your storm damage assessment.
Landscape damage: Site inspection of all landscape plants on property named within the maintenance responsibilities of client to determine levels of damage or destruction. This will be a 100% inventory of the landscape (trees, palms, hedges, shrubs, ornamentals, groundcovers, turf). Tree and landscape damage inspection worksheets listing the item locations, pre-damage plant characteristics, damage percentage due to named event, recommended restoration, and damage values (based on national standard valuation methods) will be produced.
Produce location maps of landscape items based on sub meter accurate GPS records taken during evaluation site visits, with numbered landscape item locations shown on aerial photos of property. These provide the visual evidence to verify the landscape items included in this project and for verifying the damages claimed.
Land improvements damage: Site inspection and verification for land improvements and related insured items including, but not limited to, irrigation systems, lakes, soil grades, storm water management systems, boardwalks, sidewalks, trails, etc. Earth Advisors' chosen professional engineer will be utilized in review and report production.
Determination and costs for all permitting, site plan, and as built plans of record issues related to restoration included in damage claim.
Produce landscape and land improvements damage valuation report showing methodology, summary of results, damage value worksheets, damage location maps, site plans and opinion of damage values.
Call or email us today to tell us about damages to your land improvements and/or landscape!
(954) 987-1885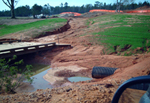 Soil Erosion Damage
_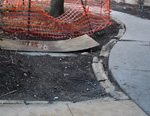 Sidewalk Damage
_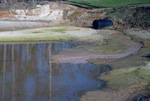 Drainage Damage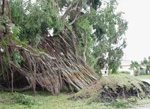 Hurricane Damage